Dedicated Team At Amagumo Labs
Having a team focused on providing solutions for a single client allows greater control, feedback and visibility through the entire process. This is particularly important for projects with continuously changing requirements.
Companies with existing in-house development teams can easily add to their capacity, assigning appropriate tasks to the team in Vietnam throughout the project.
The dedicated team approach to software development outsourcing compares very favourably to other engagement models. Greater control, flexibility and oversight as projects evolve combine with cost effectiveness and budget transparency in a very compelling package.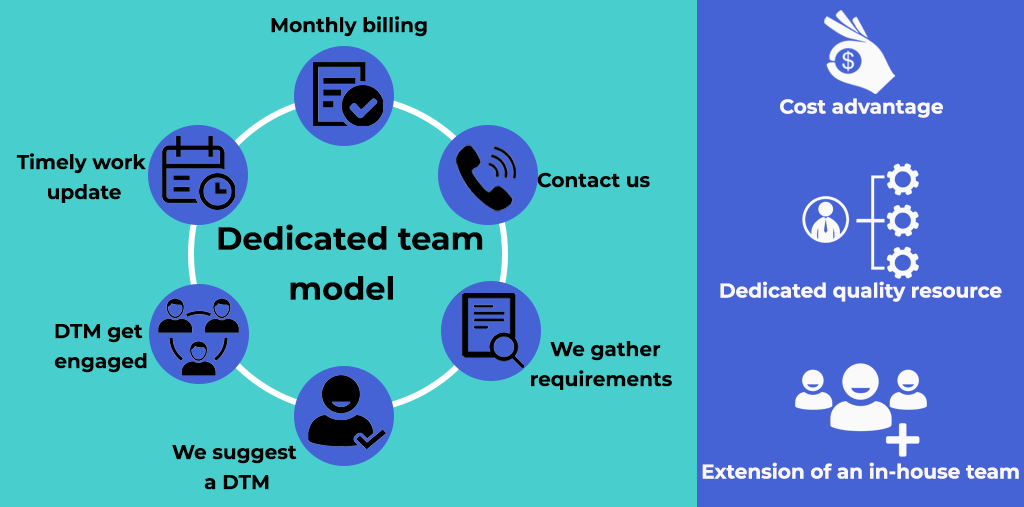 When it's appropriate to use a dedicated team model?
You can consider using a dedicated team model in the following scenarios :
If you are planning to build a long-term strategic relationships with a software development service provider.
If you have the requirement of a full fledge team that has various skills and expertise but if you cannot manage them directly.
If you are looking for a quality development team and when you want to keep the development cost to the minimum.
If your requirements and goals are not clearly defined and may undergo significant changes in the development process.
If you are working on a project that has tremendous scalability chances, a dedicated team model is useful here because as you can make use of the same team with the same fixed billings.
Major features that a dedicated team model can offer:
The team is fully dedicated to your project.
The Service Provider provides a Project Manager and a Business Analyst with whom you can seamlessly communicate.
Client can personally interview software developers and monitor their work, if he wishes to;
Customer has direct control over all the stages of the project.
A time sheet will be provided by the Project Manager on the tasks undertaken in a DTM cycle.
The costs are fixed and charged on monthly basis.
Client is completely involved in task assignment, resource allocation and milestones.
Major benefits to a dedicated team model:
Transparent process.
Quality resource and project management team at relatively lower rates than the normal fixed price bid.
No long-term investments, maintenance, infrastructure, startup expenditures or taxes.
An extension of own development team with reduced administrative overheads and other barriers.
Access to a vast pool of IT professionals with diversified programming skills from which you can choose on the basis of your project requirements.
Complete control over the team structure with easy replacement or addition of the team member on your demand.
As the same team is working on the project for a prolonged period, any transition based issues can be avoided.
Developers become more qualified in the project's technologies which will largely improve the overall quality of the project.
As a Project Manager and a Business Analyst will be coordinating the project at the Service Provider's end, the knowledge transfer and the conceptualization becomes more simple, obtaining more coordinated work.
Work estimates will be submitted by the PM before the start of the sprint in a DTM cycle and detailed time sheet after completion.
Improved pro activeness of the employees due to reasonably long-term association.
Direct and frequent communication with team members and, as a result, better mutual understanding;
Usage of a project management tool for monitoring the resources resulting in Comprehensive task progress reporting with extensive control.
Mobile Development
Tell us about your app and our talented mobile development team will
bring it to life – both in iOS and Android.
Web Development
We provide both back-end and front-end development. Our teams build web applications powered by bulletproof code, with stunning interfaces based on responsive web design.
Data analytics + BI
Our Developers and Operations are working together to build and maintain highly available and reliable infrastructure as well as support you to deliver your digital product or service faster.