Overview
The Flora Natura mobile app is both an extensive knowledge base as well as a commerce platform and as such, presented unique challenges for our developers. We solved it by working closely with them, gathering all the product informations, and buiding two interdependent modules on a singular base – effectively linking the knowledge part with the online shopping experience.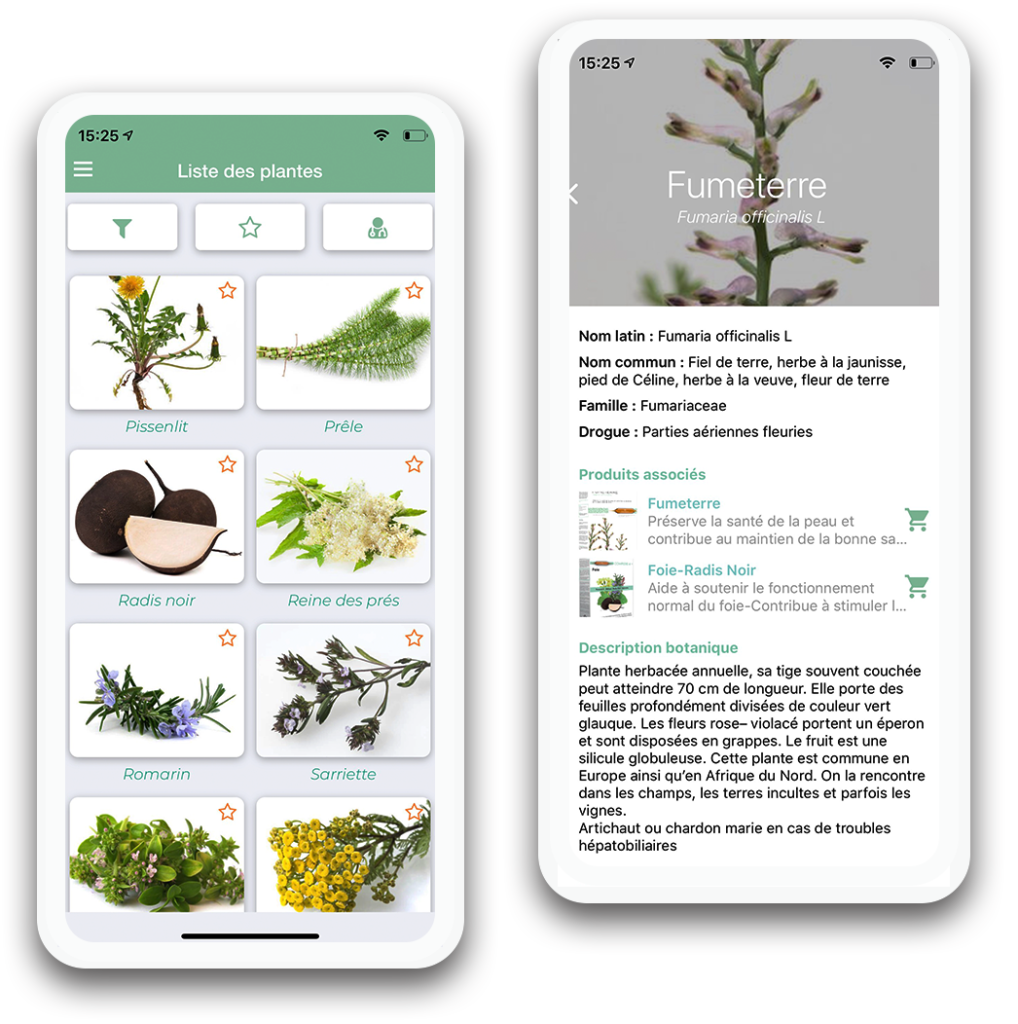 The Situation
Flora Natura, Number 1 in food supplements under the Nature et Progress label, puts its knowledge of medicinal plants at your disposal.
Our team of naturopaths, assisted by medicinal plant specialists, will help you choose the plants suited to your needs. This application is a simple and intuitive tool which will allow you to develop your knowledge about medicinal plants and their benefits.
The Challenge
Building a platform that allows anyone from naturopaths and specialists to students in medicine to use and develop their knowledge about medicinal plants and their benefits requires an expressive framework combined with elegant syntax and an insightful UX design.
Our Solution
The application that we developed is intended to be a powerful tool not only for students in pharmacy & herbal medicine but also for anyone who wishes to learn how to meet their needs through plants. The Flora Natural application has multidimensional access to plant monographs, typical profiles and associated vegetations while containing a large glossary of the most technical terms used around medicinal plants. This project demonstrates our capabilities of tailoring each client's specific needs, making our work intuitive yet simple and user-friendly to use.
Design
Development DevOps
Moda en Casa – ERP applications
We have built an ERP platform that helps our client manage their inventory planning plus provided them with an unrivalled proposal of an ultimate aesthetic sense combined with error-free source codes. The project displays our capability of satisfying an extremely high-quality demand of the Japanese market.
Design
Development DevOps
Smile Bus – An Interactive School Bus Management App
The application which we built for our client serves increasing demand for controlling the daily commute of children from home to school. The app does not only connect school bus drivers with parents and lets them have real-time supervision but also provides optimal traffic solutions for safety and efficient time management purposes.
Design
Development DevOps
Pax Sky Office Building – Tour and Visit Booking App
We have created an application that helps our client showcase their detailed office building plan and allows their end-users to schedule a visit with a salesperson directly from the app. The project demonstrates our outstanding skills in designing beautiful interfaces and developing a responsive management tool for our client.