Overview
PAX Sky is a high-end real estate firm located in Vietnam, and Amagumo Labs built a solid mobile application for them to showcase their portfolio of available projects, allowing potential clients to consult it right from their mobile phone, and their sales team to have it available at the tip of the thumb in any situation. Our focus was on the interface and response time, creating a powerful communication and sales tool.
Project Name
Paxsky Office building tour and visit booking app
Services
iOS app design and development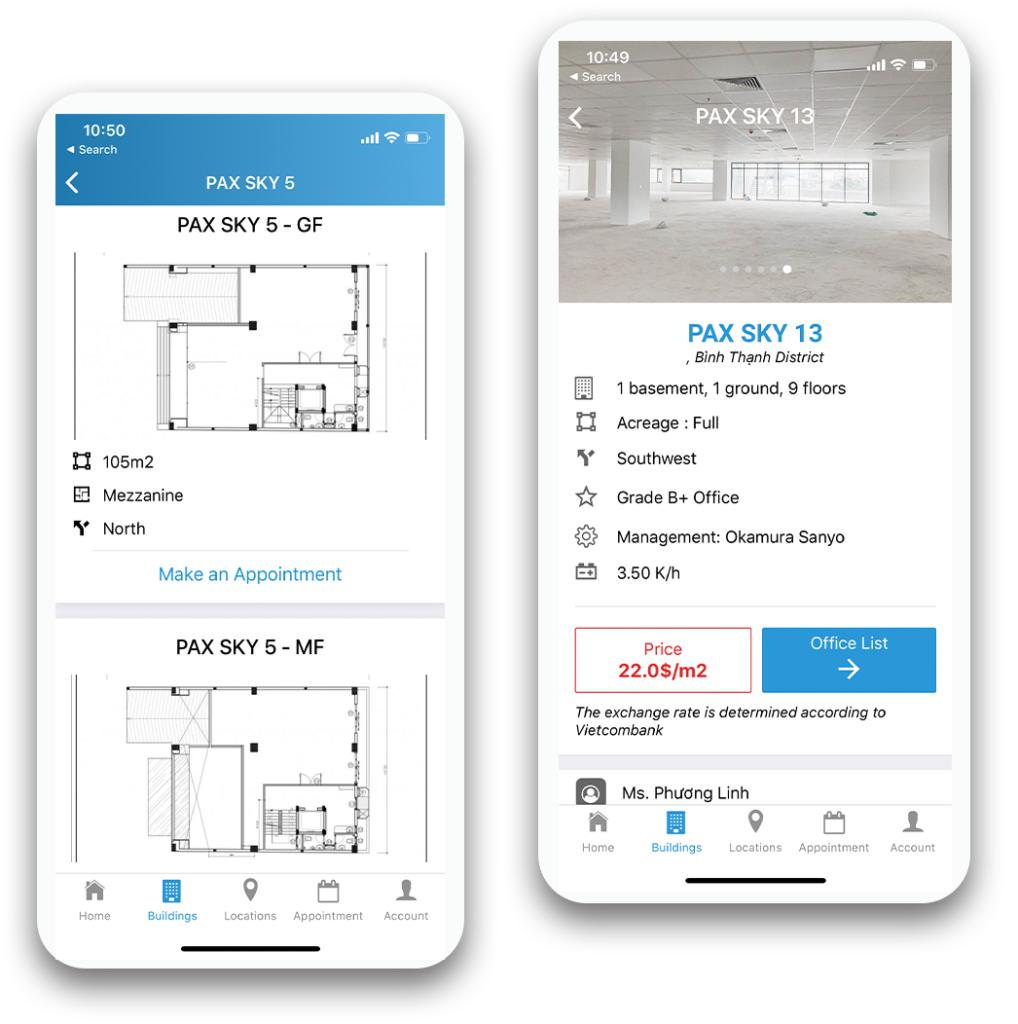 The Situation
This mobile App showcase all the PAXSKY office building in Ho Chi Minh City. User can view a detailed plan of available offices for rent and schedule a visit with a sales person directly from the app.
The Challenge
UX/UI: we designed a high-fidelity with Sketch
Mobile App: REACT NATIVE for iOS and Android
Back Office : Laravel, MySQL
Our Solution
Pax Sky project is extraordinary evidence of a great combination of skilful designers and dedicated developers. With the beautiful setting of mobile animations and usable functionalities, we have not only helped our client inspire their potential customers with excellent services, but also bring their sales team closer to the clients, allow them to optimize cost efficiency, thus make online transactions become important traction of the client business.
UX/UI Mobile React Native
Flora Natura – Naturopathy And Plants Discovery App
This is a handy, mini-Wikipedia platform that contains intensive knowledge of medicinal plants and their benefits with elegant syntax and an insightful UX design. This project displays our strong capabilities of tailoring each client's specific needs, making our work unparallel, both informative and commercial driven on one single platform.
Design
Development DevOps
My Life Company – Restaurants Loyalty App
When working with the client, we understood their business need which was not only focused on display functionality of the app but also on CRM monitoring solution that assists their end-users to collect loyalty points, rate the services and book tables while on the move, using the app either on Android or on iOS.
Design
Development DevOps
Moda En Casa – Enterprise Resource Planning App
We have built an ERP platform that helps our client manage their inventory planning plus provided them with an unrivalled proposal of an ultimate aesthetic sense combined with error-free source codes. The project displays our capability of satisfying an extremely high-quality demand of the Japanese market.